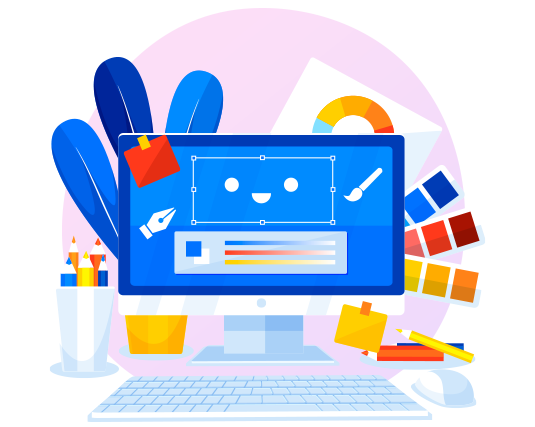 With proper planning and creativity one could climb the greatest heights of brand designing. There is no limit to what one can achieve from the correct approach and perspective of designing at V3 Designs Australia. Our prior records along with customer's positive feedbacks have made us the best graphic design company in Australia.
Designing an impressive foundation from the initial days is our goal. At V3 Designs Australia, constructing a visible communication and presenting spectacular logos and stunning flyers, is our prime focus.
We take pride in ourselves for the specialized graphic designing team, who are committed to their tasks and have a knack on producing the best graphic designs. We understand the priority of listening carefully and developing a prospective strategy with the clients, to deliver elite graphic designs which effect the branding of the service.
Creating An Impeccable Identity Towards Success-road
Creating a noteworthy first impression holds supreme importance. Trusted by numerous brands in Australia, V3 Designs Australia is a treasure trove for graphic designs that caters high-quality, cost-effective, and scalable projects for any frame of business or industries. Further, our goal is to supply sterling services in pocket-friendly budget. We look into the matter that through our tailored designs your service is amplified to a greater strength of people.
Our Graphic Design Services –
Logo Design and Branding:– Logo symbolizes a brand. Creating an impeccable logo for your brand will define the image you are willing to portray. We make it a seamless and hassle-free process for you. Branding is a very transparent way in which your business aspects remain connected. Branding lets you use all types of different designs and at the same time helps you to morph and grow where you paradoxically can still be the same. Logo and branding help the identity be cohesive and complete.
Package Designing:– Creating an attractive package design makes the customers take impulsive decisions. Packaging lures them to buy even when they aren't willing to. We create package designs that make you look out from the queue and gives a unique image, better than the ordinary.
Brochure & Flyer Designing:– Impressive brochures and flyers evoke trustworthiness and reliability among the potential audience. It creates an everlasting impression and always keeps you a step forward from the curve of the competitive market. We provide with all brochure designing services including, company, product, sales etc.
Social Media Design:– Social Media is the platform to reach a mass audience and we here at V3Designs help you do that, Our professional experts create your social media posts design in a very unblemished way and attract prospective clients.
Our graphic design company in Australia aces the course of portraying a modern outlook to the aspired service through innovative graphic designing, paving the stairway to success.