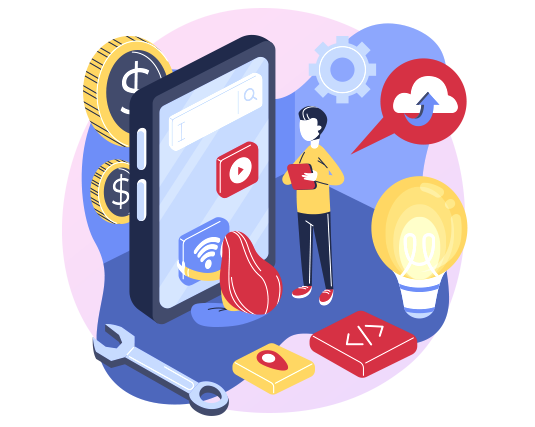 In the unprecedented times of today, applications have changed the way we look at the world. To no more following the old traditional way, the World has gone topsy turvy and we are all on our heels. With the digitalization of all necessities we are all dependent on the applications. Where we are all looking for short cuts and are constantly changing with the ever-dynamic environment, the mobile applications comes as a blessing in disguise.
Mobile applications are leaving a great impact on the business world. Small scale or large scale, they are all dependent on the applications. We at V3 Designs Australia helps to leverage business through the mobile application and even traffic to the self-claimed app by your firm. We put in no shame to boast about our expertise at developing mobile applications. We follow are long process while working on the development, which starts with strategizing, planning, researching, programming, designing, testing and lastly training. During the entire development process, we always remain transparent to our clients.
Our Web Application Development Services –
IOS Apps:– We use tools and technologies focusing on the IOS that boosts performance. Keeping the widespread of industries and uses in mind, we prepare platform dedicated high-end apps. To bring in the positive response the applications we develop are custom made and the features inspire and excite the users. It is expandable to the needs of each business and service and guarantees a good return on investment.
Hybrid Apps:– With the fast running pace we understand how important speed is. We create Hybrid apps that are ultimate at their speed and give a cosmic performance. The applications we develop are all filled with robust features and can be used across all the devices. There is no performance limitation to it.
Android Apps:– Dedicated Android Apps increase performance and attract a number of clients. It not only benefits the app but also the business performance. We fulfil the user's expectations with stunning UX, vigorous operational capacity and friendly features.
Native Apps:– The native apps we build uses the best technology available using the local API, which enables devices full use and capacities. With attractively stunning UI we overcome all the challenges and build platform-specified apps.
Why Us?
We at V3 Designs Australia, help in building the native apps for Android, IOS and Windows.
With a team of expert professionals we help in building up of user- friendly, effective and efficient applications.
The capabilities of UI/UX designs together make us a grand combination to develop the most reached out applications.